Are you looking for a fun and Unique party idea for your next get together? I recently received the Just Add Color - Birthday Party Package to test and review and we had a blast!
My kit included:
J
ust Add Color Mega Pack Includes: Total Value: $180
a.) Ryan's Ultimate Color Party Guide
e.) 3 Powder Paintbrushes
g.) Bonus 2 Two Free Color Blasters
The set up was easy and quick. I added some of each color to paintbrushes (Plastic bottles) then I filled the color bonkers as well.
Here is what everything looked like once I got the props filled up. The hose was easily able to wash everything down when we were done so there wasn't a bunch of color all over the deck.
I started filling the paint brushes inside but decided to take it outside for easier clean up
We had a blast with our Color War and everyone involved was smiling laughing and covered in chalk. I didn't have to give any instructions on how to use things the kids knew instinctively how to use everything. I would recommend this party package for children, teenagers and adults alike! Everyone who participated had a ton of fun and those who didn't participate but only wanted to watch enjoyed themselves as they watched us pumble each other with purple, pink and blue!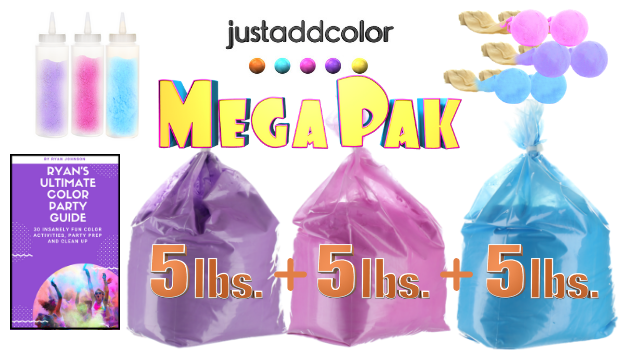 We had a ton of fun with our party and there was a ton of other ideas and games that we didn't manage to get to this time! I can't wait until our next party so that we can try out some more!
Be sure to order your Mega Pack at:
https://www.justaddcolor.com/order